TryScootBoots.com – Your USA Scoot Boot distributor making the superior design of Scoot Boots accessible to you and your equine partner in the United States by providing sizing shells, accepting trade-ins, and offering a unique demo/trial option so that you can try Scoot Boots before committing to them!
We are an authorized independent distributor for Scoot Boots in the United States. We work closely with Scoot Boots in Australia but maintain our own full inventory here in the States so that we are able to offer fast and free USA shipping.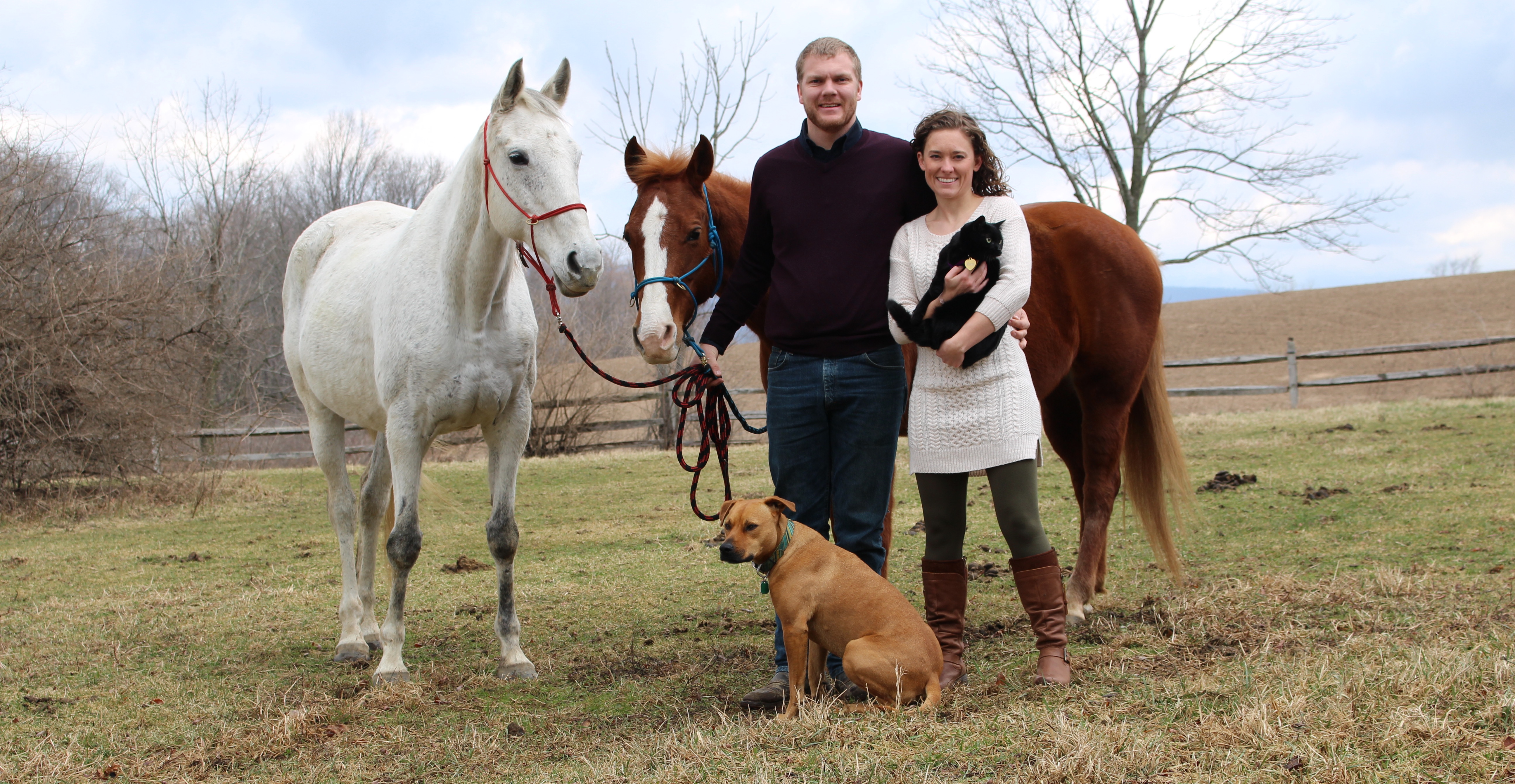 A little about us...
Hi there! We're Trevor and Wyntre. We live for the time we spend out on the trail with our horses Aurora, Trevor's thoroughbred that we adopted from the rescue Horse Haven of Tennessee, and Savannah, a quarter horse/arabian/welsh pony cross that Wyntre raised and trained from a newborn foal. Just like you, we love our horses and strive to give them the best care possible.
Between the scientific papers we read documenting how a horse's hoof must be free to expand and contract to deal with concussion to the times we've watched shod horses slip when riding on pavement or getting out of the trailer, it was very clear to us that we wanted to keep our horses barefoot. But because our horses are not able to spend much time on hard/rocky ground like we want them to be able to ride on, we needed boots to keep them comfortable on rough terrain.
We tried many different boots before we found Scoot Boots. In our experience, they are by far easiest to put on/take off and they stay on exceptionally well through all kinds of terrain and at all gaits! Their design is beautifully simple and functions extremely well! (See the things we love about Scoot Boots in the list below.) What a relief: our horses are comfortable and we are confident that their boots will stay on!
We were so excited to find boots that actually worked for us that we wanted to give other people in the United States the opportunity to try Scoot Boots. From our experience, we learned that some boots work great for certain horses but not others and often the only way to tell whether a pair will work is to actually ride in them. This makes for a frustrating and expensive process! So we looked into creative solutions that would help you find a pair of boots that are right for you and your horse: we have sizing shells available, accept trade-ins, and offer a unique demo/trial option so that you can try Scoot Boots before committing to them.
We know how overwhelming it can be to find boots that work for you and your equine partner as unique individuals. As your Scoot Boot distributor in the United States, we are committed to helping our customers find exactly what works for them and we look forward to working with you! Please don't hesitate to contact us with any questions you might have!
- Trevor and Wyntre
What we LOVE about Scoot Boots:
They stay on!! Walk/trot/canter/gallop and through tall grass, rocky terrain, and sucking mud. No need to constantly look down to check to see if we've lost a boot going down the trail! (We found they even stayed on when a toe strap was undone or when trying a pair that was a size too big!)
They are super easy to put on and take off! No more wrestling to pry boots on or fiddling to fasten a bunch of tedious straps! We timed it and found we can put a boot on in under 20 seconds!
They are flexible and mold to the horse's hoof, allowing it to function naturally but with added protection. These boots have enough give to them that horses can feel the ground they're traveling over and their hooves can expand and contract as they naturally would. We think this flexibility also helps the boots stay on because they mold to the horse's hoof instead of wrenching against it.
They are light and low profile. Not at all bulky or clunky (won't cause horses to overreach or swipe themselves) and they don't collect water or mud.
Their sizing is accommodating. They fit across a full trim cycle.
They have great traction. We found them to have far better traction than traditional metal shoes.
They are durable. Very tough material with no wires to fray, no Velcro to get gunked up, and no gaiters that rip off from an over-reach.
They are easy to clean. No heavy, soggy, mud-packed leather to scrub after a ride – just a quick rinse is all that's needed.